In my classroom we love using the Doink Green Screen app to create a photo that can be used in lots of different projects. In this post I will give you some ideas you can use for green screen photos. Be sure to check out my previous posts here for more ideas and help getting started with Green Screen in your classroom. In the Green Screen Doink app you can save your project 2 ways. One way is a video which is really popular but you can also save your project as a photo which is fun to add to other apps.
We have some small LEGO pigeons in my classroom that we use to make little lego comics. You might have purchased the new stuffed Pigeon at Kohl's or have other book character stuffed animals in your classroom. Have your students take a photo of your stuffed character on a green screen and add it to the Green Screen app to give it a plain background.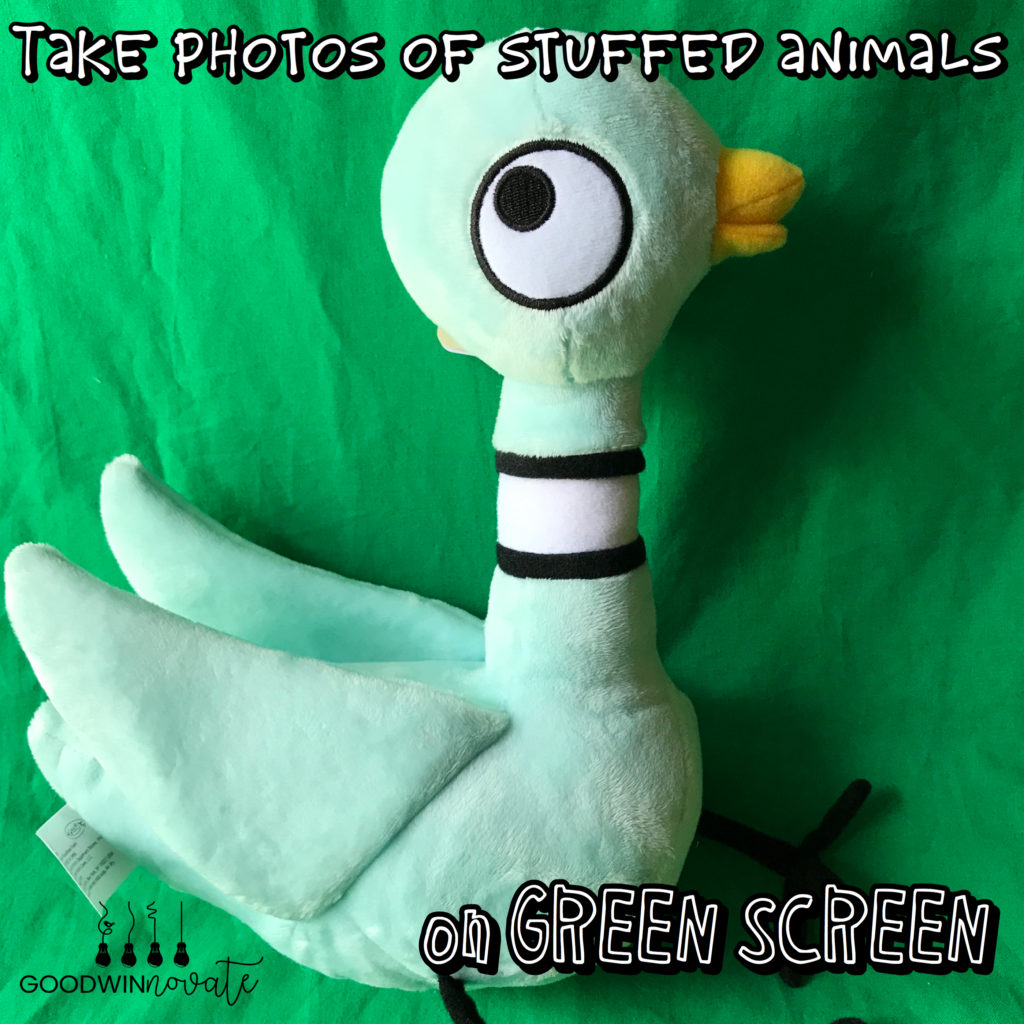 Add plain colored backgrounds to the bottom layer of the green screen app  to make your characters pop. If you look closely at the photo you can see the pail blue background is the bottom layer and the green screen is the second layer. You get the photo to your camera roll when you tap Image and Save which are just above the top layer and are highlighted in blue. You can see in this comic the student is having someone answer the pigeon off to the side. Students had tons of fun creating these comics.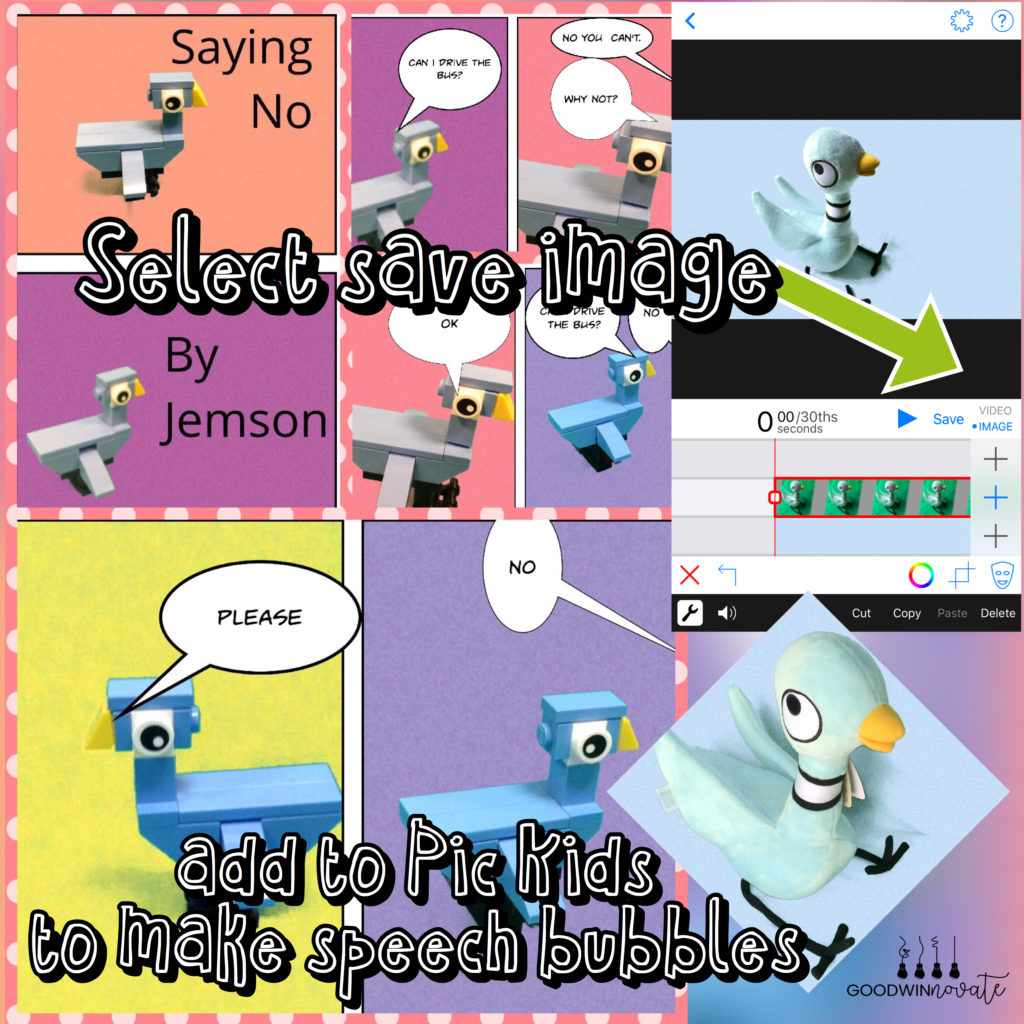 We used plain pastel colors that were kind of like the book. We made our background photos in Pic Collage Kids app by saving each plain background as a photo in our camera roll. We made about 4 or 5 different pigeon photos as shown in the photo above and saved them to our camera roll. After we saved the photos from the Green Screen app we added each photo into Pic Collage Kids app and added speech bubbles to make a comic. (You can see a sample of the stuffed pigeon comic in the first picture in this post.)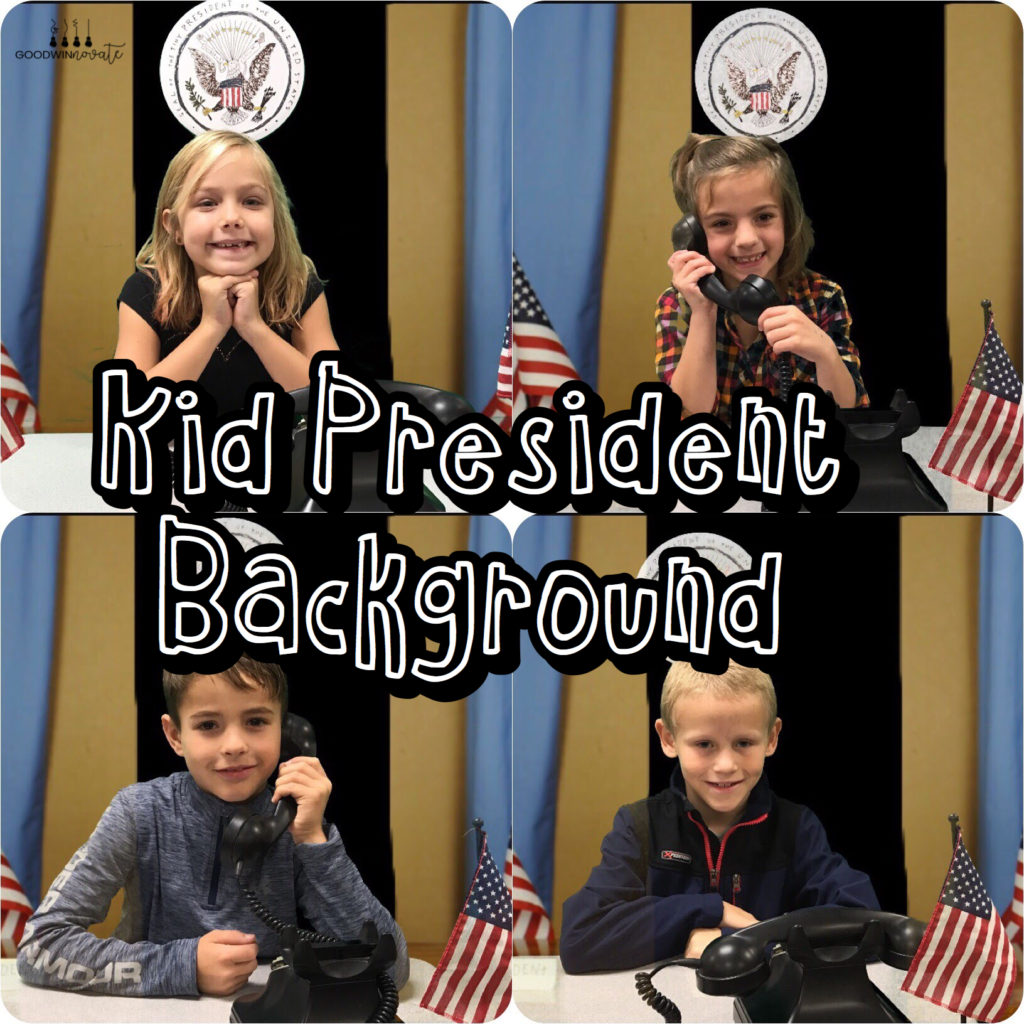 You can also mock up your own background to add to as a layer. We had fun posing as Kid President and taking photos. We also made a fun video you might want to check out too. You could have students type their own encouraging words on their Kid President photos.
Kid President is always a big hit in my classroom.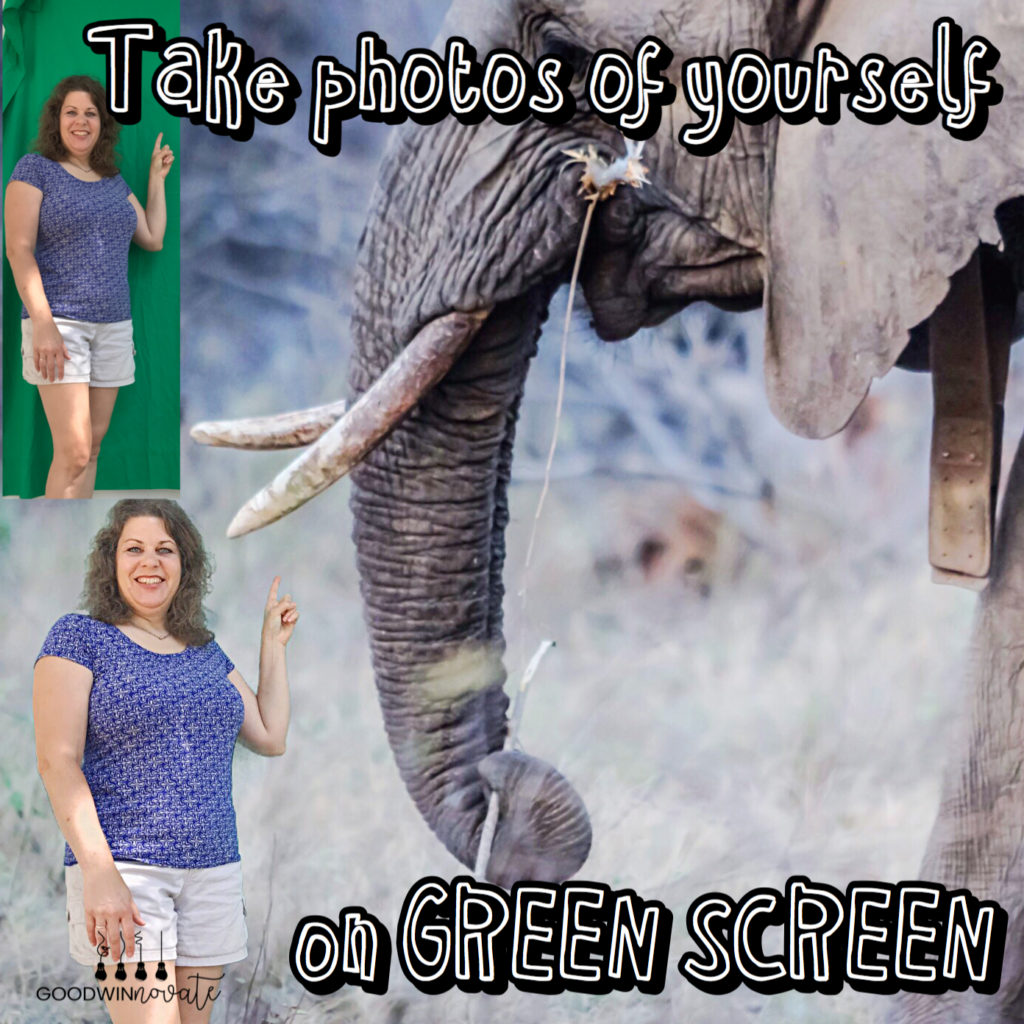 If you take various photos of students on a green screen background they can add them to different projects. Add them to any photo background and make a photo like the elephant one above. Type research facts in Pic Collage about elephants or places that you have traveled in your photo. Add them to book creator and make a book of research.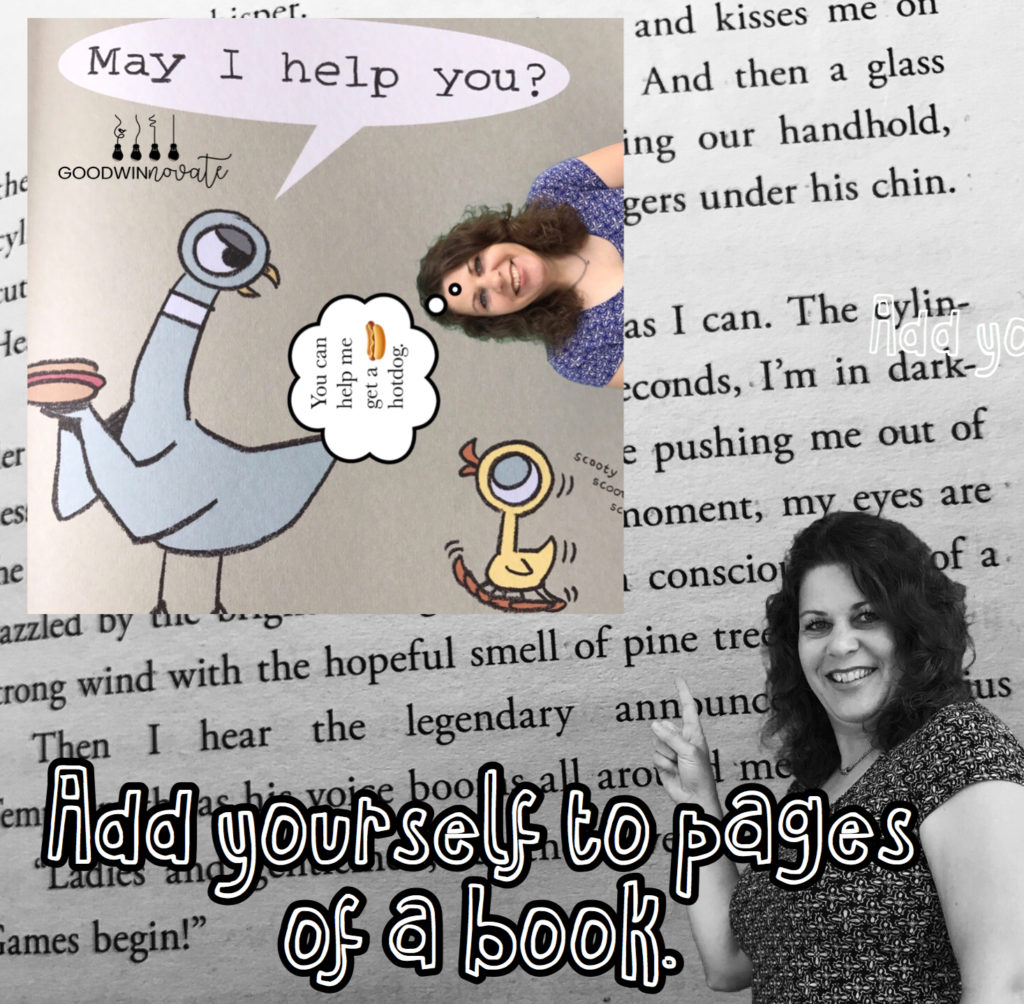 Add yourself to pages of a book and interact with the characters by using speech or thinking bubbles.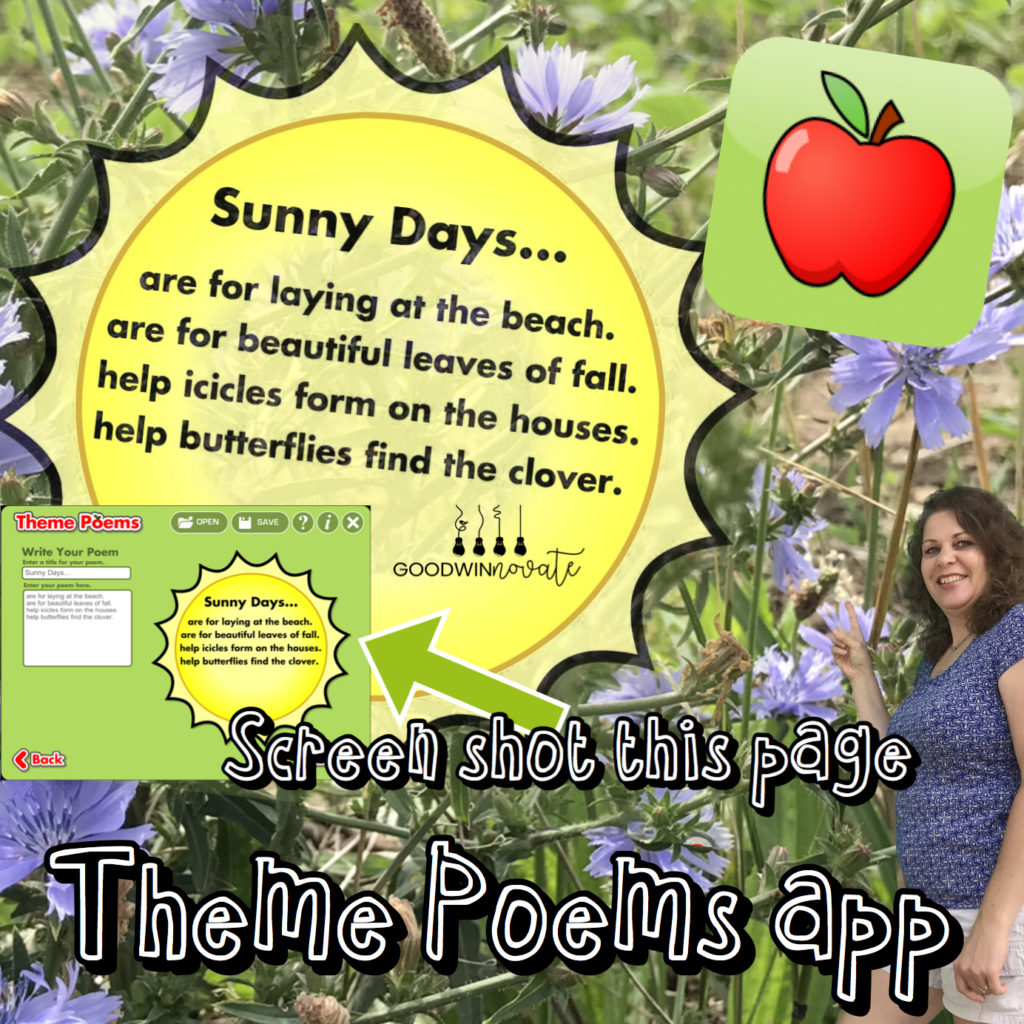 The Theme Poems app is really nice for writing poems and it also has green backgrounds so they can easily be added to make a cool photo with pictures of the authors of the poem. Take a screen shot of the colored page and then add it as a layer in your green screen app. Layer it with pretty photos in the background too. Students could make a cool book of poems in Book Creator app and then record them in the app to practice fluency.
So I hope you get the idea that Green Screen isn't just for video and you can do some pretty cool things with photos.